Press Release
AVN-CU2-DANTE Nominated as IABM BaM Award Finalist
22 August 2019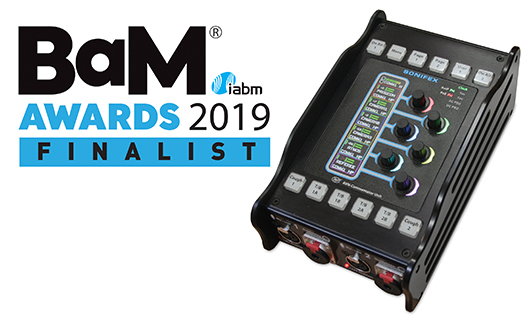 We're excited to announce that the Sonifex AVN-CU2-DANTE Configurable Dante Commentary Unit has been nominated as a finalist in the Produce category of the IBC IABM BaM Awards® 2019.
Category winner results and awards will be presented at the IABM awards party on Saturday September 14th 2019 at 6.00pm in the IBC Executive Lounge.
The AVN-CU2-DANTE is a pretty impressive piece of gear.
For pricing, please contact sales@sonifex.co.uk or call +44 1933 650 700.
Brochure & AVN-CU2-DANTE Images:
For the New Products Brochure, click here >
For a high resolution image of the AVN-CU2-DANTE Iso, with IABM Bam Award logo, click here >
For a high resolution image of the AVN-CU2-DANTE Iso, click here >
For a high resolution image of the AVN-CU2-DANTE Front, click here >
For a high resolution image of the AVN-CU2-DANTE Rear, click here >