Press Release
Sonifex Distributor Awards 2016-2017
25th September 2017
The Sonifex Distributor of the Year Awards for 2016-2017 were announced at this year's IBC exhibition. Canford Audio received the award for the best UK distributor and orangetec, based in Stuttgart Germany, received the award for the best export distributor.
Presenting the award to Iain Elliott, Managing Director of Canford Audio, was Marcus Brooke, Managing Director of Sonifex. Richard Butlin, Sonifex Sales Manager for Europe, gave the award to Ulrich Otte of orangetec.
Marcus Brooke commented: "The hard work and dedication of our distributors is greatly appreciated and itís an honour to present these awards. Congratulations go to both Canford and orangetec for their dedicated sales and support this year."
Iain Elliott said: "Itís been another great year for Canford and itís a pleasure to receive this award again. Weíve been working closely with Sonifex for a long time and we both have a mutual appreciation of the otherís skills."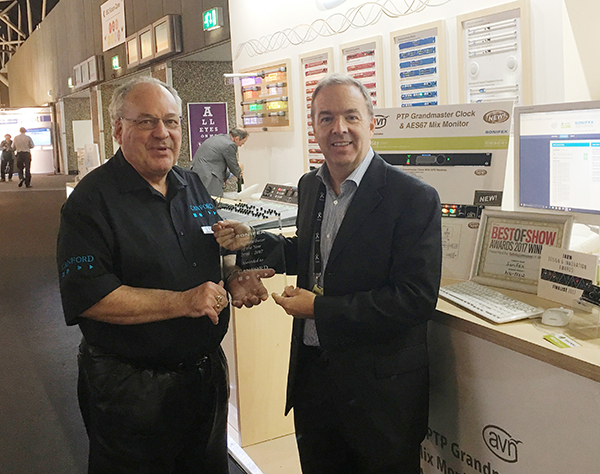 Iain Elliott of Canford, left, received the award from Marcus Brooke of Sonifex.
Ulrich Otte of orangetec, commented: "Iím delighted to be receiving this award from Sonifex. Hard work, commitment, some good marketing strategies and lots of new Sonifex designs has made this a fruitful and productive year."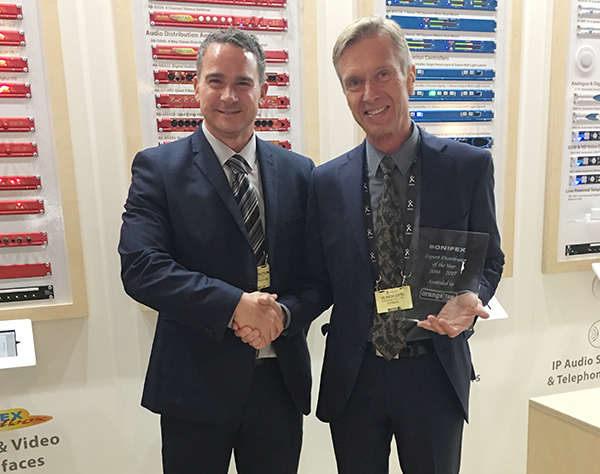 Ulrich Otte of orangetec, right, receiving the award from Richard Butlin, Sonifex.
-ends-