Press Release
New Sonifex HD Voice & GSM Hybrid, Showing at NAB
24th April 2017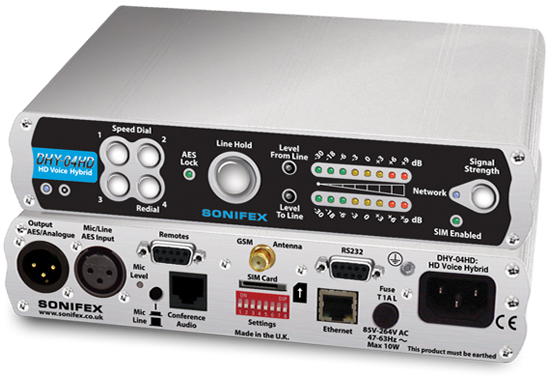 Sonifex is delighted to be showing on booth C2839 at NAB this year, the new DHY-04HD Automatic HD Voice & GSM Hybrid.
The DHY-04HD is an HD Voice & GSM hybrid for handling high quality voice calls, ideal for studios in remote locations, for OB vans and trucks on the move, and in emergency situations where a telephone landline canít be guaranteed. Using a 3G or GSM cellular network, it can receive and make high quality broadcast calls of 7kHz bandwidth, converting the 3G or GSM call to the 4 wire audio signal to and from a connected mixing console. The module used in the DHY-04HD is quad-band GSM and 5 band UMTS/HSPA+, so it can take and make calls on any 2G GSM, or 3G network.
Like the DHY-04 family of products, the DHY-04HD has combined analogue/digital I/O, front panel speed dial buttons and a webserver for configuration and remote dialling.
For more information about the DHY-04HD, click here >
-ends-