Press Release
Sonifex Shows New GSM Telephone Hybrid At NAB 2015
23rd March 2015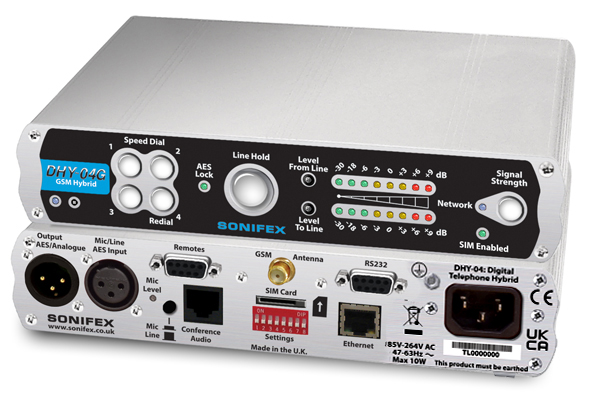 Sonifex is showing a new GSM cellular hybrid on booth C2839 at NAB 2015, the DHY-04G automatic digital hybrid. This product has AES/EBU and analogue autosensing I/O together with an Ethernet port for control and configuration.
The DHY-04G digital GSM hybrid uses a quad-band 2G/GSM cellular connection instead of an analogue POTS line, converting the GSM call to the 4 wire audio signal to and from a connected mixing console. It's ideal for studios in remote locations, for OB vans and trucks on the move and in emergency situations where a telephone landline can't be guaranteed.
The front panel has four speed-dial buttons for dialling internally preset phone numbers and a Redial button for redialling the last number. There is an Ethernet port for remote configuration via a web browser GUI and this also provides remote dialling facilities. Front panel indicators show the GSM Network availability and that the SIM is enabled. Additionally a push button allows the GSM signal level to be displayed on the LED array.
The audio input is an auto-sensing combined analogue or AES/EBU XLR input, accepting sample rates up to 24 bit/96kHz. The output is configurable as analogue or AES/EBU.
-ends-