Press Release
Sky Use Sonifex Commentator Units at Augusta Masters Golf
5 May 2015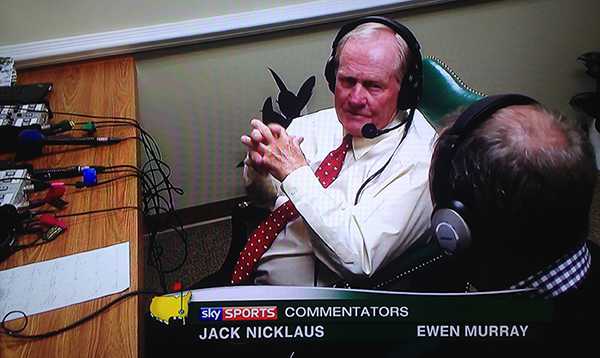 Sky UK Ltd, the UK satellite broadcaster, ordered 3 off Sonifex CM-CU21 commentator units for their coverage of the Augusta Masters golf championship in April, supplied through the US distributor Independent Audio.
David Culmer, Production Manager for Sky said: "It was great using the Sonifex commentary units at the Masters. They sound superb and have all the return audio and headphone monitoring facilities that we need in a rugged chassis. We will be using them on all our Majors and other golf tournaments where we have commentators on site."
The image shows Jack Nicklaus and Ewen Murray commentating with headsets, and Coles lip mics available on the table for use in noisier ambient conditions.
The CM-CU21 is a high quality, portable Commentator Unit. Its sturdy construction and flexibility of features make it suitable for use in a wide variety of environments.
It provides two fully featured commentator positions and a third guest position that can alternatively be used as a line-level input. Each position has an individual output, with two additional outputs providing a mix of all active commentary channels. There are two talkback output channels, with a built in limiter and extensive headphone monitoring facilities for any input to any ear of the attached headset/headphones.
-ends-