Press Release
New Sonifex Products at NAB 2014
25th March 2014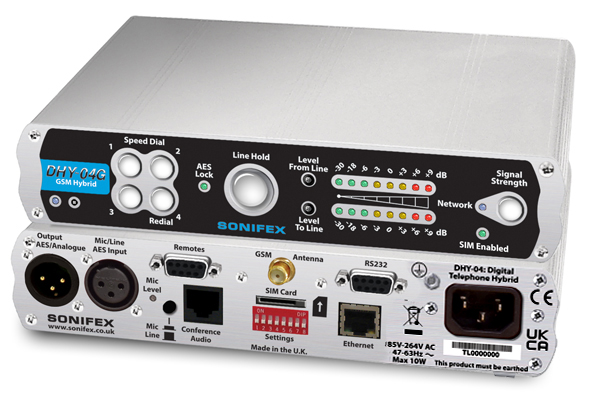 Sonifex had two new hybrids on display on booth C2333 at NAB this year, the DHY-04 Single Automatic Digital TBU with AES/EBU & Analogue I/O, Ethernet and the DHY-04G Single Automatic Digital GSM TBU, with AES/EBU & Analogue I/O, Ethernet. Two new distribution amplifiers and belt packs are being exhibited.
The DHY-04 telephone hybrid offers the features of the superb DHY-03 with the following additional benefits. It has auto-sensing AES/EBU or analogue XLR inputs and outputs, recognising digital inputs up to 96kHz, 24 bit. It has an Ethernet port for remote configuration and remote control of the unit with SNMP. It also has DTMF dial up recognition for reporter remote access and hybrid control over a standard POTS line.
The DHY-04G is a digital GSM hybrid which has all features of the DHY-04 but uses a 2G cellular connection instead of an analogue POTS line. Ideal for studios in remote locations and with the outstanding performance of the DHY-04.
New additions to the Redbox range are the RB-DDA6A3 digital distribution amplifier which is used for distributing AES3id digital audio, repeating both the audio data and the status information of the input whilst re-normalising to standard digital audio levels. It has a single BNC AES3id audio input which is distributed to 6 BNC AES3id audio outputs.
And, the RB-MS4X3 Quad 3 Way Passive Microphone Splitter which is one of three new passive splitters. Each of the 4 banks is designed to split a single microphone or line source to up to three destinations, using Neutrik XLR connectors. Cable connections are located on the rear panel, with recessed controls and indicators available to the user on the front panel, allowing quick and easy access to setup parameters. It uses high quality audio transformers that are capable of accepting input levels of up to +18dBu, making the splitter useful in both microphone and line level splitting applications. A 30dB pad can be applied to the input, allowing a line level signal to be interfaced into a microphone input with suitable levels and the correct termination.
Also showing at NAB is the recently released RB-SD1IP silence detection unit has Ethernet & USB, which offers all the functionality of the existing RB-SD1 with several extra capabilities. Ethernet connectivity allows finer set up and control via a browser based GUI together with a real time view of signal levels and alarm statuses. SNMP V1 is implemented so that the unit can be controlled by existing network management systems and GPI pins enable the generation of SNMP traps on behalf of other, non-networked, hardware. A front panel USB port can hold a pre-recorded message which the unit can play out in the event that both main and auxiliary signals fall silent.
-ends-
Contact sales@sonifex.co.uk for further information.
US enquiries :
contact Fraser Jones of Independent Audio, tel : +207 773 2424 fax : +207 773 2422
email : info@independentaudio.com website : https://www.independentaudio.com
UK and other export enquiries :
contact Eamonn Heffernan of Sonifex Ltd, tel : +44 1933 650 700 fax : +44 1933 650 726
email : sales@sonifex.co.uk