Press Release
Sonifex Distributor Of The Year Awards 2013-2014
19th September 2014
The Sonifex Distributor of the Year Awards for 2013-2014 were announced at this year's IBC exhibition in Amsterdam. Canford Audio received the award for the best UK distributor and orangetec, based in Stuttgart Germany, received the award for best export distributor.
Presenting the award to Canford Audio was Marcus Brooke, Managing Director, Sonifex, and to orangetec, Richard Butlin, Sonifex Sales Manager - Europe.
Marcus Brooke, Managing Director of Sonifex said: "We are delighted to offer these awards in recognition of the hard work and commitment of our distributors and to congratulate both Canford and orangetec for making this another fruitful year."
Iain Elliott, receiving the award for Canford, said: "I am pleased to receive this award on behalf of the Canford team whose hard work and intensive marketing strategies have made this year a great success."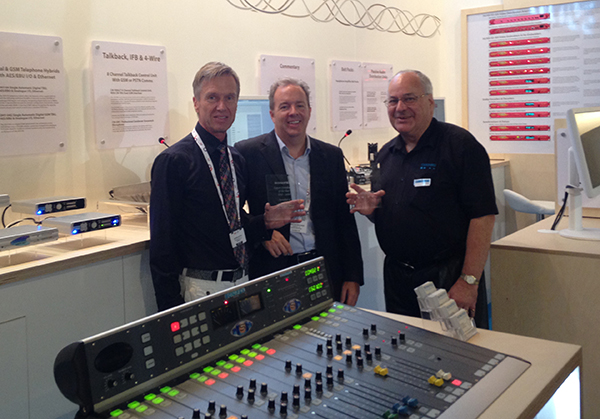 Ulrich Otte of orangetec, said: "Once again, I am delighted to receive the Sonifex distributor of the year award on behalf of orangetec. Our new marketing initiatives plus dedication to promoting the Sonifex brand in Germany, coupled with new lines from the Sonifex product range have enabled us to achieve high targets this year. We look forward to another successful year."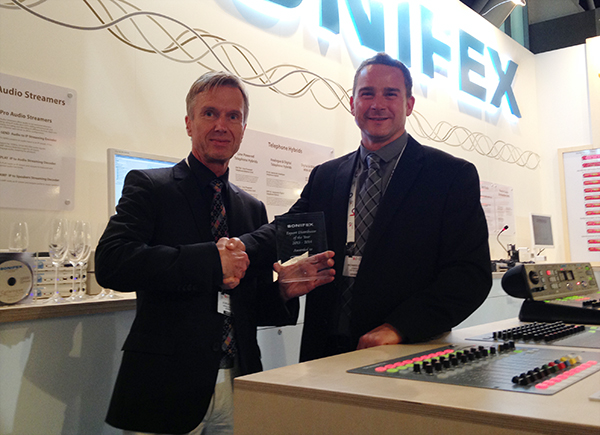 High resolution image of Canford:
Click here >
High resolution of orangetec:
Click here >
-end-
Contact sales@sonifex.co.uk for further information.
US enquiries :
contact Fraser Jones of Independent Audio, tel : +207 773 2424 fax : +207 773 2422
email : info@independentaudio.com website : https://www.independentaudio.com
UK and other export enquiries :
contact Eamonn Heffernan of Sonifex Ltd, tel : +44 1933 650 700 fax : +44 1933 650 726
email : sales@sonifex.co.uk