Press Release
Sonifex Show New Telephone Hybrids Including GSM Version at IBC 2014
4th September 2014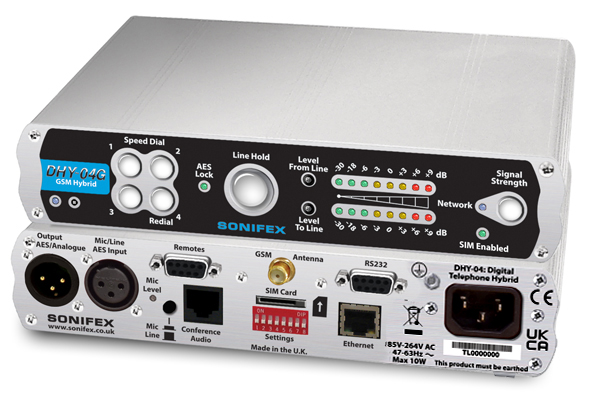 Sonifex are showing two new hybrids on stand 8.E61 at IBC this year, the DHY-04 and the DHY-04G automatic digital hybrids. These products both have AES/EBU and analogue autosensing I/O together with an Ethernet port for control and configuration.
The DHY-04 telephone hybrid is a redesign of the existing DHY-03, the best quality telephone hybrid in the world, with 76dB typical line balance rejection offering superb performance and crystal clear audio. It is automatic in operation, with auto answer, auto disconnect and auto ducking, adapting to varying line conditions with fully adaptive echo cancellation.
The DHY-04 has all the features of the DHY-03 plus some useful additions. The front panel has four front panel speed-dial buttons for dialling internally preset phone numbers and a Redial button for redialling the last number. The audio input is an auto-sensing combined analogue or AES/EBU XLR input, accepting sample rates up to 24 bit/96kHz. The output is configurable as analogue or AES/EBU. There is an Ethernet port for remote configuration via a web browser GUI and this also provides remote dialling, line hold control and the ability to generate SNMP Traps for SNMP management systems. Additionally the DHY-04 has DTMF dial tone recognition for reporter remote access - a journalist can dial into the unit which can recognise a pre-programmed DTMF numeric password to automatically connect the journalist on-air.
The DHY-04G is a digital GSM hybrid which has all features of the DHY-04 but uses a quad-band 2G/GSM cellular connection instead of an analogue POTS line, converting the GSM call to the 4 wire audio signal to and from a connected mixing console. Ideal for studios in remote locations, for OB vans and trucks on the move, and in emergency situations where a telephone landline can't be guaranteed, the DHY-04G offers outstanding performance.
The DHY-04G has some additional front panel indicators. There are two LEDs, one for SIM enabled and one for GSM Network availability. Additionally there is a push button which allows the GSM signal level to be displayed on the meter LEDs.

For more information, please email sales@sonifex.co.uk call +44 1933 650700
-end-
Contact sales@sonifex.co.uk for further information.
US enquiries :
contact Fraser Jones of Independent Audio, tel : +207 773 2424 fax : +207 773 2422
email : info@independentaudio.com website : https://www.independentaudio.com
UK and other export enquiries :
contact Eamonn Heffernan of Sonifex Ltd, tel : +44 1933 650 700 fax : +44 1933 650 726
email : sales@sonifex.co.uk