Press Release
Sonifex Distributor Of The Year Award 2011-2012
24th September 2012
Words: 289
The Sonifex Distributor of the Year Awards for 2011-2012 were announced this year at the IBC exhibition in Amsterdam. Oxford Sound & Media received the award for the best UK distributor and Orange Tec, based in Stuttgart Germany, received the award for best export distributor.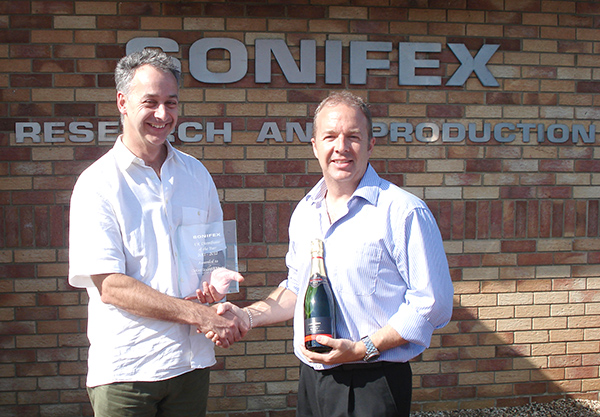 Presenting the award to Oxford Sound & Media, Marcus Brooke, Managing Director of Sonifex, commented: "We've been involved with Andrew and his team for many years and this year has been particularly productive with collaboration on a number of large projects that Oxford Sound & Media have undertaken. We've designed a desktop monitor with them, over 2000 of which have been installed across the UK over the last 18 months which has contributed largely to our continued success."

Andrew Riley, Managing Director of Oxford Sound & Media, said: "We've had a remarkably successful year and it's been a pleasure to work with Sonifex on a number of different systems integration projects during this time. On behalf of Oxford Sound & Media, I am overjoyed to receive this award, given the current economic climate."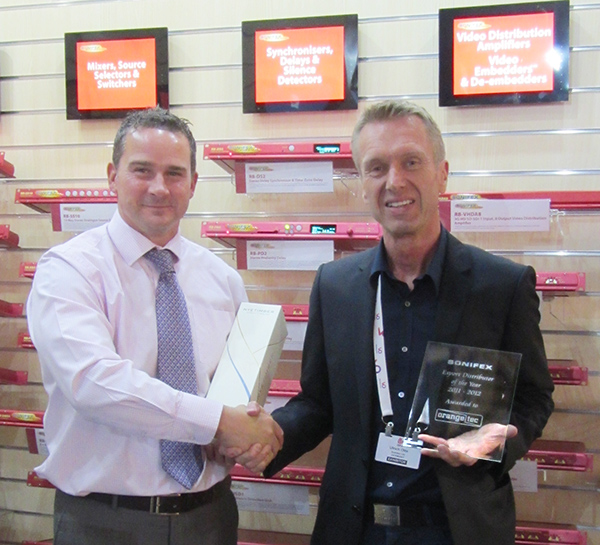 Presenting the award to Orange Tec was Richard Butlin, Technical Sales Engineer for Sonifex: "Our sales in Germany have gone from strength to strength and Orange Tec has excelled itself in promoting the Sonifex brand to the German market. We've got a very close professional relationship with Ulrich and it's a pleasure to work with him."

Ulrich Otte of Orange Tec, commented: "Our hard work this year has paid off again and I'm so happy to accept this award. The German version of the Sonifex website is creating many sales opportunities and the German market seems to be strong in the broadcast sector. We're hoping that this will continue next year."

-ends-
US enquiries :
contact Fraser Jones of Independent Audio, tel : +207 773 2424 fax : +207 773 2422
email : info@independentaudio.com website : https://www.independentaudio.com
UK and other export enquiries :
contact Eamonn Heffernan of Sonifex Ltd, tel : +44 1933 650 700 fax : +44 1933 650 726
email : sales@sonifex.co.uk