Press Release
The New Sonifex CM-TB8 Talkback Control Unit Showing At IBC 2012
6th September 2012
Words: 378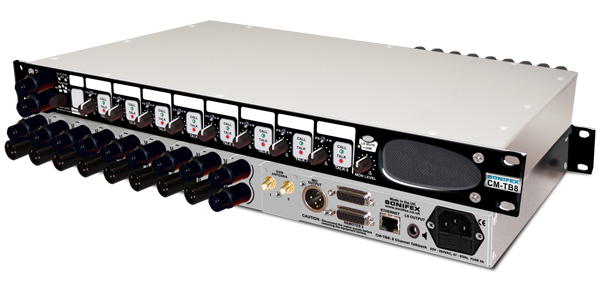 Sonifex are pleased to show the new CM-TB8 8 Channel Talkback Control Unit on stand 8.E61 at IBC this year.
Marcus Brooke, Managing Director, said: "The CM-TB8 is a powerful and highly flexible self contained communications unit which offers easy connection to any industry standard talkback system including the Sonifex CM-TLL line listen unit plus the CM-CU1 and CM-CU21 commentator units and is ideal in an OB truck or small studio."
The CM-TB8 is a talkback control unit providing 8 channels of 4-wire communication, housed in a 1U rack mount enclosure. It has individual connections for both a headset on 5 pin XLR and microphone/headphones on XLR/stereo TRS jack, with the current selection indicated on the front panel. The gain setting for each input type can be individually set between +6dB and +68dB allowing for a wide range of microphone types and +48V phantom power is also available.
Small talk level adjustments can be made quickly, using the front panel rotary control with a maximum adjustment range of ±12dB. This adjustment can be disabled if required to stop inadvertent changes. A level limiter automatically adjusts the microphone gain if the signal level exceeds a preset level, and the current talk level is indicated on the front panel when it exceeds 0dB and +8dB. A separate output on the rear panel provides a balanced, gain adjusted and level limited microphone signal on 3 pin XLR.
An optionally fitted telephony add-in card (CM-TB8T or CM-TB8G respectively) allows up to 2 channels to be connected to a telephone or GSM network. This allows the operator and the talkback users to communicate with a connected caller and both 4-wire and IFB operation is available.
The unit provides a wide range of user configurable options and there are 6 configuration templates that allow settings to be stored and recalled at a later date. Two of the configuration sets are read only and cannot be changed. The other four can be used to store customised settings.
The CM-TB8 Ethernet port allows configuration settings to be modified using the built-in web server and an on-board configuration mode allows several of the configuration options to be changed without the need of a PC.The unit is powered from a universal mains input between 85-264V AC at 47-63Hz.

-ends-
Contact sales@sonifex.co.uk for further information.
US enquiries :
contact Fraser Jones of Independent Audio, tel : +207 773 2424 fax : +207 773 2422
email : info@independentaudio.com website : https://www.independentaudio.com
UK and other export enquiries :
contact Eamonn Heffernan of Sonifex Ltd, tel : +44 1933 650 700 fax : +44 1933 650 726
email : sales@sonifex.co.uk