Press Release
Sonifex Introduce New German Website

20th May 2011
Words: 140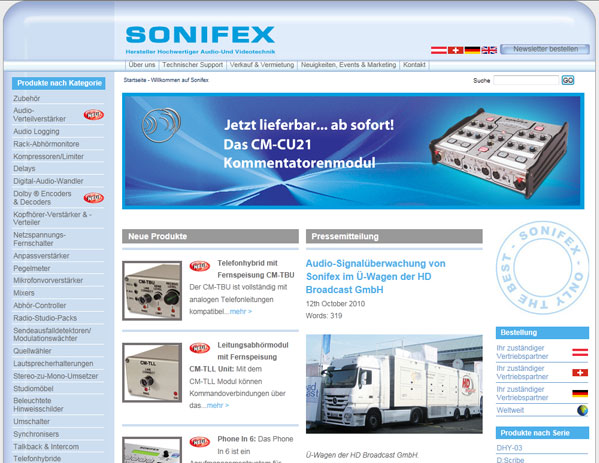 Sonifex's website has been launched in the German language. Available by clicking on the country flags at the top of the UK webpage, the website provides native language information for all German speaking countries.
Marcus Brooke, Managing Director of Sonifex said: "The German market is very important to us and we have continued to see an improvement in our sales each year. Our German distributor Orange Tec has worked very hard to expand sales in the German territory and the website launch should help to increase sales further. The new website should also prove to be a useful resource and give our customers the information they require in their own language, enabling them to make informed decisions when purchasing Sonifex products."
The website is live now, so have a look.
-ends-
For further images click here >
Contact sales@sonifex.co.uk for further information.
US enquiries :
contact Fraser Jones of Independent Audio, tel : +207 773 2424 fax : +207 773 2422
email : info@independentaudio.com website : https://www.independentaudio.com
UK and other export enquiries :
contact Eamonn Heffernan of Sonifex Ltd, tel : +44 1933 650 700 fax : +44 1933 650 726
email : sales@sonifex.co.uk