Press Release
Sonifex,The Best Option For St.Thomas More RC College
11th May 2011
Words: 727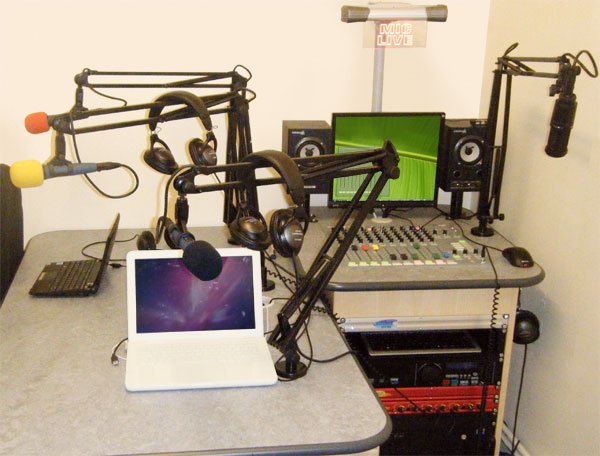 Established in 1964, St. Thomas More RC College is a Roman Catholic co-educational voluntary aided comprehensive college that achieved specialist status in September 2004 and became a Mathematics and Computing College.
Following their designation as a high performing specialist college, they were awarded a second specialism in Applied Learning in 2008. Specialist status has offered them increased resources and enabled them to acquire ICT facilities for teaching and learning throughout the college.
To facilitate their ICT requirements, Will Drain, ICT teacher and college radio co-ordinator was designated the task of setting up and maintaining a new school radio station.
In June 2010, Will bought a Portable Radio Studio Package, along with a desk and extra microphones from *School Radio Solutions, (a division of Sonifex Ltd).
Will commented: "We wanted to start up a college radio, the intention for this was to offer students the opportunity to take part in an exciting way of learning that is outside of the 'normal' classroom. We hoped that students taking part in running a college radio would develop a range of skills such as: communication both verbal and written, ICT skills, planning, team working - to name a few. As a result of the project we have seen a direct impact in the quality of learning outcomes for students in the 'normal' curriculum setting as a result of the work they have done within the radio project."
Will further commented: "When we were investigating the possible radio packages that were available, we were very much aware that we were limited for space within the school. When we looked at the *School Radio Solutions portable radio package, we decided that the idea of having all the components that we needed within one portable 'desk', that students could easily use, would be the best option. *School Radio Solutions were very flexible in that we wanted the portable studio for size but also another desk with extra microphones to make the 'portable solution' into a 'semi permanent' solution that could be used by several students at once, whilst still being able to separate the two if we wanted to move the 'portable' section into other classrooms for learning tasks.
Our studio is now used on an almost daily basis by students for a range of tasks including radio shows, school news, learning podcasts and a recording studio to make sounds used in school productions/assemblies, etc. We are also working closely with feeder primary schools in setting up their own school radio stations. Students from primarys have been coming in to St Thomas More to use our studio with our students to create their own shows."
The school broadcast all their shows on the internet. They are in partnership with Key 103 from Manchester who have a Key2Radio website and they have a page within their website where their radio team updates a blog and pictures. They also load all the shows created by students to that page.
When asked why he decided to buy from *School Radio Solutions? Will said: "I researched a wide variety of companies and possible radio studio solutions. *School Radio Solutions were very professional and obviously have thorough subject knowledge which gave me absolute confidence in the products they were suggesting. They were very helpful and professional in ensuring that products were delivered and installed very promptly following order. Overall I found and continue to find School Radio Solutions a superb company that I would highly recommend to anyone."
The *School Radio Solutions Portable Radio Studio Package is ideal for use in multiple class-rooms where you may need to wheel it from one room to another. Superbly finished, it consists of a mobile rack of equipment with an acoustic table-top in which sits a Sonifex S1 radio broadcast mixer. Microphones, headphones, an on-air sign and an LCD screen running radio playout software are all provided. In fact it contains everything you need for your school radio station at a price that you can afford. It uses the Sonifex S1 radio broadcast mixer which is a high performance, compact, low cost, fixed format mixing console designed for on-air radio use and is used by professional broadcasters worldwide.
*School Radio Solutions is a division of Sonifex Ltd.
-ends-
Contact sales@sonifex.co.uk for further information.
US enquiries :
contact Fraser Jones of Independent Audio, tel : +207 773 2424 fax : +207 773 2422
email : info@independentaudio.com website : https://www.independentaudio.com
UK and other export enquiries :
contact Eamonn Heffernan of Sonifex Ltd, tel : +44 1933 650 700 fax : +44 1933 650 726
email : sales@sonifex.co.uk