Press Release
Sonifex Distributor Of The Year Awards 2010-2011

3rd November 2011
Words: 192
The Sonifex Distributor of the Year Awards for 2010-2011 were announced this year at the IBC exhibition in Amsterdam. Canford Audio received the award for the best UK distributor and Orange Tec, based in Stuttgart Germany, received the award for best export distributor.
Presenting the awards to Canford Audio and to Orange Tec was Marcus Brooke, Managing Director of Sonifex, who commented: "This year has seen the highest turnover in Sonifex's history and our distributors are the key to our success. Orange Tec have increased turnover year on year in Germany and Canford's sales have been the best on record for us this year."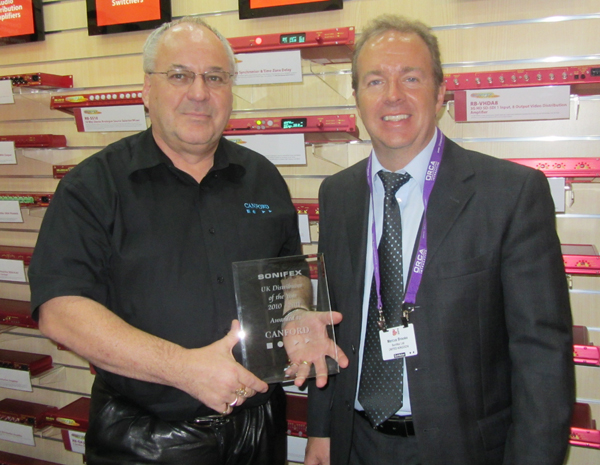 Iain Elliott, receiving the award for Canford, said: "We've had a long and productive relationship with Sonifex and are delighted to still be their number one for UK sales. Hard work and good marketing practice have all contributed in making this another good year."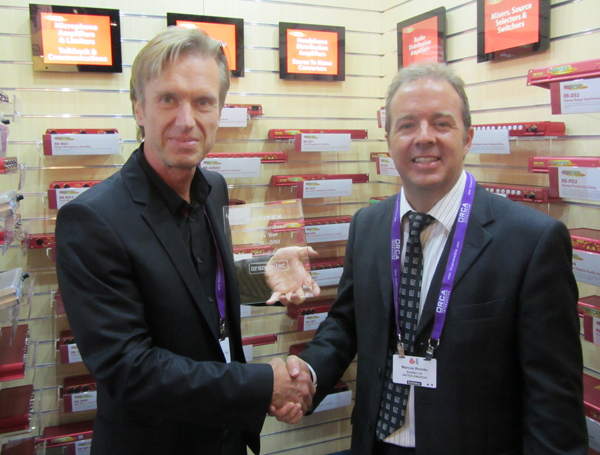 Ulrich Otte of Orange Tec, said: "Sustained high demand in the German market for the Reference Monitor and Redbox range of products has made this a very productive year for Orange Tec and I am delighted once again, to receive the Sonifex award."
-ends-
For a high resolution image of Canford Audio receiving the award, click here.
For a high resolution image of Orange Tec receiving the award, click here.
For further images click here >
Contact sales@sonifex.co.uk for further information.
US enquiries :
contact Fraser Jones of Independent Audio, tel : +207 773 2424 fax : +207 773 2422
email : info@independentaudio.com website : https://www.independentaudio.com
UK and other export enquiries :
contact Eamonn Heffernan of Sonifex Ltd, tel : +44 1933 650 700 fax : +44 1933 650 726
email : sales@sonifex.co.uk