Press Release
New Innovations From Sonifex At BVE 2010

28th January 2010
Words: 626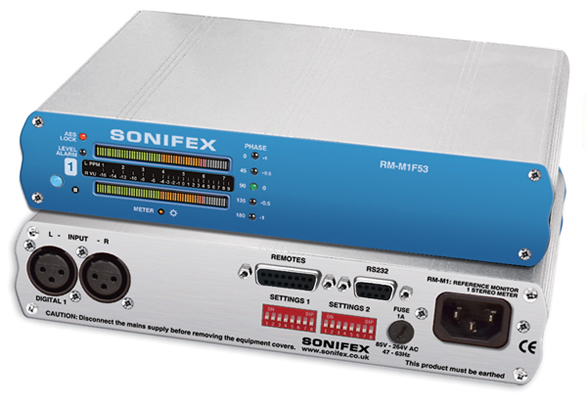 Sonifex are exhibiting an array of new innovative broadcast products on stand G50 at BVE 2010.
Marcus Brooke, Managing Director, said: "At BVE we have a number of new products on show in the UK for the first time and we're confident that they'll be well received. We've added a number of 3G HD video products to our Redbox range together with a digital mixer and multiple audio delay generator and BVE is the perfect place to premiere them".
The new 3G video Redboxes use the latest technological components to offer embedding and de-embedding for analogue and digital audio signals into and out of all 3G, HD and SD-SDI video signals. With simple front panel controls, standard BNC connectivity, AC inputs and remote operation on serial and ethernet ports, they offer reliable and simple operation.
Showing also from the Redbox range is the new RB-DD4 4 Channel Digital Audio Delay and the new Redbox RB-DMX4 4 x 4 Channel Digital Audio Mixer/Router. The RB-DD4 allows you to delay 4 mono channels of audio independently or together. Each channel delay is user selectable from multiples of common video frame rates, or a user defined value set via the serial interface. The unit is perfect for synchronizing audio to video which has been delayed by processing latency.
The new RB-DMX4 is a digital mixer capable of mixing or routing 4 mono input channels into 4 mono outputs, or 2 stereo inputs into 2 stereo outputs. The inputs are sample rate converted to allow sources of different sample rates to be mixed. The flexible mix matrix allows for a wide variety of mixing options and creativity, using 4 blocks of 4 way DIPswitches to select which inputs are mixed or routed to which outputs.
The Reference Monitor range has been expanded to include Reference Monitor Meters and Monitor Controllers. The meters are a range of three freestanding and five 1U rack-mount precision meters offering accurate, high resolution metering of between 1 and 4 stereo audio sources. Each stereo source is auto-switching between either analogue or digital AES/EBU format with sample rates up to 192kHz accepted. The Reference Monitor Controllers are a range of 1U rack-mount audio production control units, for providing source selection, volume, DIM and CUT controls for external analogue monitors, together with light controls for the Sonifex SignalLED range of studio signs, or similar.
Also showing from the Reference Monitor range is the 1U rack-mount audio monitor with Dolby® Decoding. The RM-4C8-HDE1 can decode a Dolby E or Dolby Digital audio stream allowing you to monitor visually 8 or 5.1 audio channels respectively and to monitor audibly any 2 of those channels. There are 3 Reference Monitor products which can decode Dolby E and Dolby Digital signals. Available as either rack-mount units, or as add-on cards to existing RM-4C8 units, the cards can either decode Dolby 5.1 audio from an AES audio stream (with options for either XLR or BNC connections), or can de-embed an AES stream from an HD/SD-SDI source and then decode a Dolby encoded AES signal.
The Reference Monitor range offers quality loudspeaker monitoring and accurate, high-resolution metering of up to four or ten stereo audio sources (more with the addition of an optional expansion card). Sources may be in any mixture of analogue and AES/EBU digital formats, with sample rates up to 192kHz accepted.
Finally, the SignalLED Studio Illuminated Signs are on display. They use RGB LEDs to allow multiple colours to be displayed and have integrated control electronics. Two pull-low inputs can be used to control a number of different illumination modes: constant, flash or pulse illumination. Single or twin signs can be made, e.g. showing both 'TX' and 'REH', as well as custom signs, such as company logo or studio name.
For further images click here >
Contact sales@sonifex.co.uk for further information.
US enquiries :
contact Fraser Jones of Independent Audio, tel : +207 773 2424 fax : +207 773 2422
email : info@independentaudio.com website : https://www.independentaudio.com
UK and other export enquiries :
contact Eamonn Heffernan of Sonifex Ltd, tel : +44 1933 650 700 fax : +44 1933 650 726
email : sales@sonifex.co.uk