Press Release
Sonifex Team 'Enters The Dragon'
22nd September 2010
Words: 489
On the 19th September 2010, the Rotary Clubs of the Nene Valley organised a Dragon Boat Race in aid of 3 local charities: the Warwickshire and Northamptonshire Air Ambulance, Cransley Hospice and the Lakelands Hospice.
Held at the Lilford Lodge Lakes, Barnwell, near Oundle in Northamptonshire, the event offered an entertaining way to raise some money for local charities, so Sonifex decided to enter a team. In all, 24 teams entered the event with 10 rowers and a drummer for each crew racing over a 200m course. Each team had 3 heats with the fastest 6 teams over 2 heats going forward to one of two semi-finals and then on to a final for the 2 semi-final winners and the fastest loser.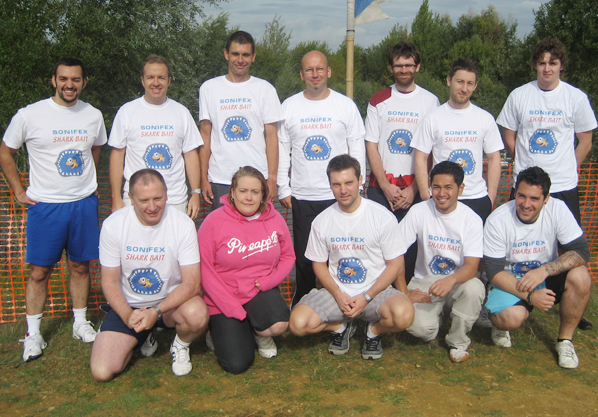 The day started with a cool but strong wind and grey clouds overhead which looked ominous – we were hoping that we could race with the wind behind us, but no, we were racing into it. After the first round though we suddenly felt quite good because the 'Sonifex Sharkbait' team were in overall second place. In the second round, we set the fastest time of the day at 60.11 seconds and were able to relax in the third heat because we had effectively already qualified for the semi-finals. It turns out that we were quite good at this Dragon Boat thing!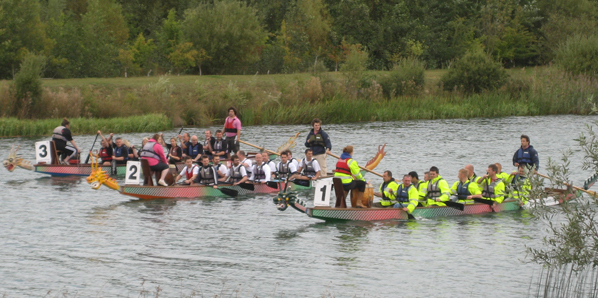 Despite the amount of beer drunk between the heats and the semi-finals, we put in a good performance in the semi-finals and, not quite believing what had happened, found ourselves in the final with the fastest qualifying time!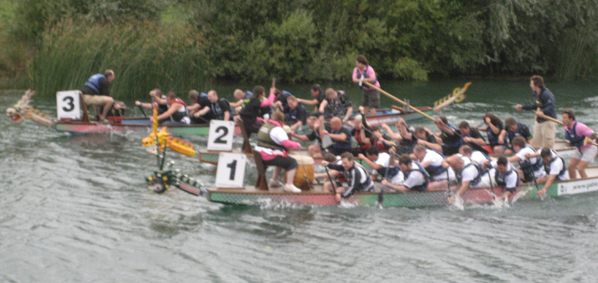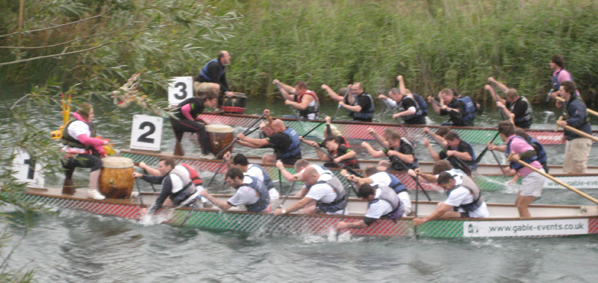 So, the final. We'd only just completed the semi-finals and had a 5 minute break to get ready to go again. The semi final had been a close call, winning by less than half a second, so we knew that the final would be close too. How close though, was hard to imagine: all three boats were neck and neck throughout and on crossing the finishing line, we were all completely spent. It was so close that none of us knew who had won until the medal presentation where we found out that we'd won by only 0.3 seconds, less than a Dragon's head!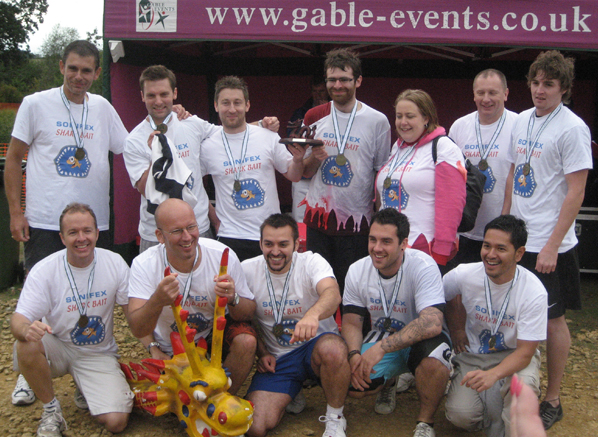 Despite the aches and pains we felt after the event, hopefully we'll be entering it again next year to defend our title. Everyone that took part commented on what a great day we'd had, so we'd thoroughly recommend it if you're thinking of doing a team event in the future.
A warm thank you to all those companies and individuals that sponsored us, to the people that came to the event to support us and to the organisers of the event, the Rotary Clubs of the Nene Valley. We've raised over £1000 for the 3 charities and had alot of fun in the process.
-ends-
Contact sales@sonifex.co.uk for further information.