Press Release
Sonifex Distributor of the Year Awards 2009–2010
22nd September 2010
Words: 210
The Sonifex Distributor of the Year Awards for 2009–2010 were announced at the IBC 2010 exhibition in Amsterdam. Canford Audio received the award for best UK distributor and Orange Tec, based in Stuttgart Germany, the award for best export distributor.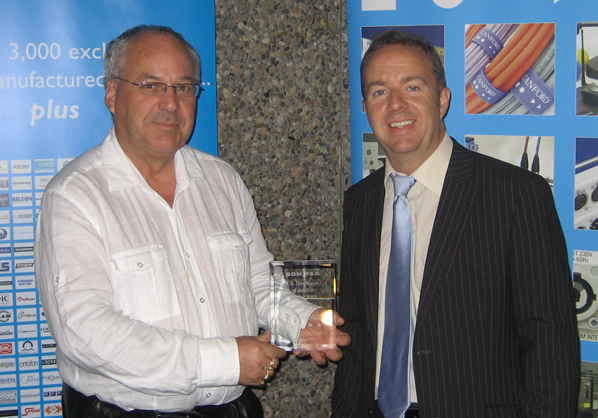 Iain Elliott, receiving the award for Canford, said: "Sonifex have recently released a series of innovative and attractive new products and this, combined with our increased marketing strategies, has resulted in a discernible increase in sales. We are looking forward to yet another fruitful year."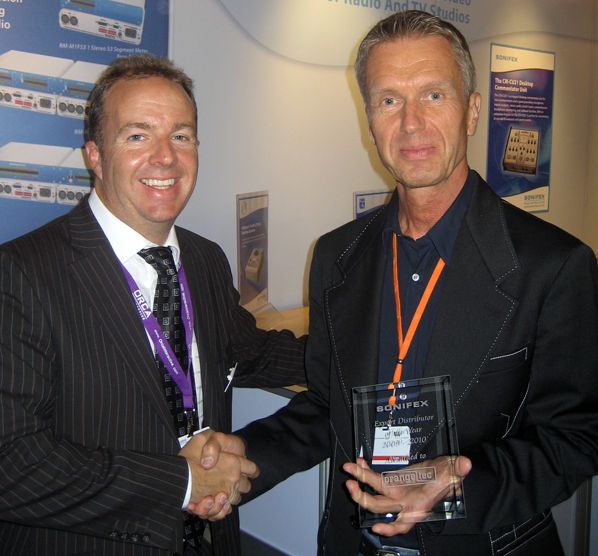 Marcus Brooke, Managing Director of Sonifex, said "After last year's success, we at Sonifex were anticipating yet another prolific year from the Orange Tec team, and we are pleased to say that they have most certainly delivered." Upon receiving the award , Ulrich Otte of Orange Tec, said: "I am proud, again, on behalf of the Orange Tec team, to receive this award and am inspired to make next year a success also. Over the past two years we have seen a high demand for the Reference Monitor series and more recently the same customer response towards the new video Redboxes. With more new Sonifex innovations available at the end of the year, we at Orange Tec are confidently expecting another good year ."
-ends-
Contact sales@sonifex.co.uk for further information.
US enquiries :
contact Fraser Jones of Independent Audio, tel : +207 773 2424 fax : +207 773 2422
email : info@independentaudio.com website : https://www.independentaudio.com
UK and other export enquiries :
contact Eamonn Heffernan of Sonifex Ltd, tel : +44 1933 650 700 fax : +44 1933 650 726
email : sales@sonifex.co.uk