Press Release
Sonifex Reference Monitors used in HD Broadcast GmbH OB Truck
12th October 2010
Words: 319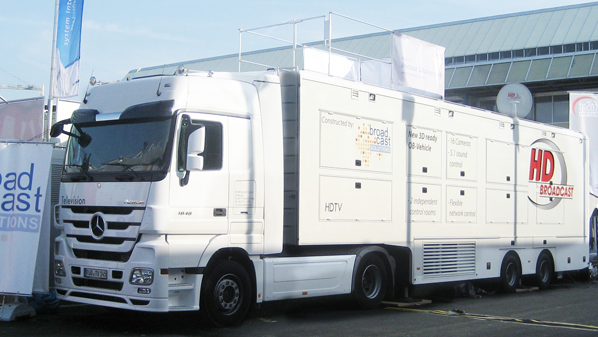 HD Broadcast GmbH, is a service provider for the German television and film industries and has an all-digital HD format OB truck, designed, planned and implemented by Wireworx and Broadcast Solutions. The vehicle is used for outside broadcast/TV/film production and events such as the German soccer league and talk shows. It offers the opportunity of producing two HD/SD program productions simultaneously from two independent control rooms, with the option of combining both facilities into one large control room.
Specified in the truck are two rack-mounted Sonifex RM-4C8-HD1 Reference Monitors supplied by the German Sonifex distributor Orange Tec. The RM-4C8-HD1 units are able to take a 3G/HD/SD-SDI signal and de-embed the audio making any of the groups available for visual and audible monitoring. This is in addition to providing 4 stereo analogue or digital audio inputs for monitoring.
In the truck it was specified that the VTR operatorís workplace should monitor de-embedded audio from the DVD recorders and the VTRs. The VTR operator uses a headset connected to a Riedel Artist RCP. In order to receive the audio from the RM-4C8-HD1 line output only, a muting feature of the Sonifex Reference Monitor is used to mute the speakers before being sent to the RCP. The OB-truck manager, having global control, uses the second RM-4C8-HD1 Reference Monitor to monitor both de-embedded audio and discrete audio derived from a Lawo routing system.
The production and broadcasting infrastructure has fully integrated HD (720p50, 1080i25 with 1,485 GBit/S and 1080p50 with 3GBit/S) and is ready for future 3D productions.
The Sonifex Reference Monitor Range is a series of rack-mount audio monitors, combining the latest DSP technology with outstanding audio enclosure design to produce monitors of the highest standards with exceptional sound quality, a comprehensive feature set and good looks in the rack. Uniquely an embedded 5 band parametric EQ allows you to configure the monitor for your environment or to suit your listening tastes.
-ends-
Contact sales@sonifex.co.uk for further information.
US enquiries :
contact Fraser Jones of Independent Audio, tel : +207 773 2424 fax : +207 773 2422
email : info@independentaudio.com website : https://www.independentaudio.com
UK and other export enquiries :
contact Eamonn Heffernan of Sonifex Ltd, tel : +44 1933 650 700 fax : +44 1933 650 726
email : sales@sonifex.co.uk