Press Release
New Radio Lollipop In Children's Hospital Uses Sonifex S2 Mixer

30th June 2008
Words: 463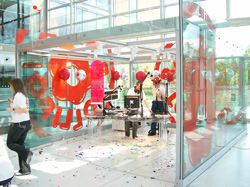 Radio Lollipop is a charity which provides care, comfort, play and entertainment for children and young people in hospital. Established in 1979 it is an international charity serving hospitals in the UK, Australia, New Zealand and the USA.
In May this year, Radio Lollipop opened its new studio HQ at the Evelina Children's Hospital in London. The new studio is set in glass walls, underneath the glass atrium of the hospital. The studio building and its furniture is made from clear perspex, designed by Architect Mark Maffey of Studio Mode, and the remaining equipment is from the Sonifex S2 Solutions range of furniture, to give a bright and modern look.
The desks are made of clear perspex with broad curves and perspex legs. The CD players are housed in a Sonifex SOL-T12 desk-top pod which is coated in white acrylic and supports a large translucent red sign housing the Radio Lollipop logo and an 'on air' light. Beneath the desk sit two Sonifex SOL-B12 base pods also housed in white acrylic which contain the amplifier, power supplies and other peripheral equipment.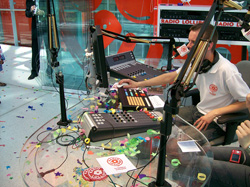 The centre piece of the studio is a Sonifex S2 split-desk mixer which complements the look and feel of the design. Split with 5 channels on one side and 10 channels on the other, it is configured with 6 stereo channels, 1 telco channel and 3 mic/line channels.
Consultants working on the project recommended to the Radio Lollipop Board of Directors that the Sonifex S2 range of products should be used because they are easily assembled, work well together and are best suited to the requirements of the project.
Richard Butlin, Technical Sales Manager at Sonifex commented: "The Radio Lollipop Evelina project was a lovely, positive project to be involved with because of where it was and also the enthusiasm of the project team. The design of the studio is amazing and I'm sure that it will bring a lot of happiness to the children in the hospital."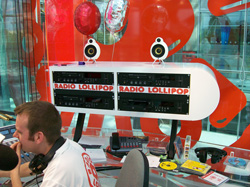 The Sonifex S2 is a new breed of radio broadcast mixer. Using the latest technology components, it offers digital audio quality with analogue reliability in a modular format. The S2 has a wide range of input and output channels, PFL/cue, fader-start operation of equipment, automatic monitor muting on mic-live, light switching remote outputs, optional EQ on input modules, gram amp input options and 2 main audio buses, allowing you to broadcast on the PGM bus while recording on the AUD bus, with bus output selection on each module. It also has both digital and analogue input channels, together with simultaneous analogue and digital outputs.
For further images click here >
For Lollipop image 01 click here >
For Lollipop image 02 click here >
For Lollipop image 03 click here >
Contact sales@sonifex.co.uk for further information.
US enquiries :
contact Fraser Jones of Independent Audio, tel : +207 773 2424 fax : +207 773 2422
email : info@independentaudio.com website : https://www.independentaudio.com
UK and other export enquiries :
contact Eamonn Heffernan of Sonifex Ltd, tel : +44 1933 650 700 fax : +44 1933 650 726
email : sales@sonifex.co.uk