Press Release
Sonifex Distributor Of The Year Awards 2008

24th September 2008
Words: 175

At the recent IBC exhibition, Sonifex's distributor of the year awards were announced. Canford Audio were awarded best UK distributor and EMS Africa, based in Johannesburg, best export distributor.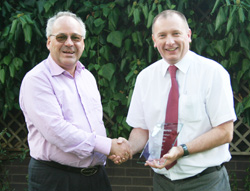 Iain Elliott, receiving the award for Canford, commented "Our sales for Sonifex products are the highest that we've had for a number of years and they're still growing. Sonifex have released a succession of extremely attractive new products in the last 12 months and this, combined with our ever widening customer base and increased marketing activities, has resulted in a marked increase in sales. We're looking forward to another successful year."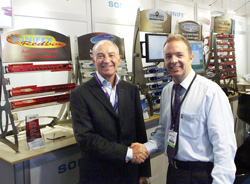 Managing Director of EMS Africa, Dennis Feldman said: "Our sales of Sonifex equipment are mostly for logging equipment into the installed sound and AV market, although we have some excellent ties with SABC where we've been selling the Sonifex mixers and Redboxes. Although I was quite surprised when told that we are the export distributor of the year, in hindsight sales have been steadily improving for Sonifex over the last three years, so I'm delighted."
For an image of Iain Elliott of Canford (left), receiving the award from Chris Stills of Sonifex, please click here
For an image of Dennis Feldman of EMS, Africa, (left), and Marcus Brooke of Sonifex, please click here
Contact sales@sonifex.co.uk for further information.
US enquiries :
contact Fraser Jones of Independent Audio, tel : +207 773 2424 fax : +207 773 2422
email : info@independentaudio.com website : https://www.independentaudio.com
UK and other export enquiries :
contact Eamonn Heffernan of Sonifex Ltd, tel : +44 1933 650 700 fax : +44 1933 650 726
email : sales@sonifex.co.uk