Press Release
Trafficmaster Expand Services Using Sonifex S2 mixers

21st May 2008
Words: 347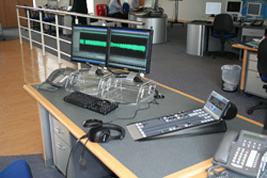 Based in Cranfield, Bedfordshire, Trafficmaster is regarded as the UK's leading journey management company, providing high quality satellite navigation, traffic data and vehicle tracking systems including Smartnav, Trafficmaster Monitor, YQ, Oracle and Freeway units. Traffic information from Trafficmaster can also be obtained by phoning the 1740 service, which is run in partnership with the RAC and the UK's main mobile phone operators. The current service allows customers to dial in and get location or road specific information regarding their chosen route.
Trafficmaster have installed two S2 digital I/O analogue radio broadcast mixers, each containing output monitor channels, a mic/line input channel and a 6 way source selector, in order to expand the services that they can offer to customers.
Trafficmaster's objective is to use the new broadcasting studio facilities to add high quality content and in depth traffic news to existing IVR platforms (mobile phone services). A number of broadcasters have been hired to source additional information from police and CCTV to supply a higher level of incident detail to the customer. The content of the broadcast will be similar to traffic bulletins by major radio stations and should this prove successful, may expand to incorporate quality travel services for the radio industry.
Transplan UK who installed the mixers, recommended Sonifex equipment as the standard for high broadcast quality and reliability allowing for future expansion should the need arise.
The S2 is a small format, modular digital I/O analogue mixer which uses the latest technology components to offer digital audio quality with analogue reliability in a modular format. S2 has both digital and analogue input channels, together with simultaneous analogue and digital outputs.
S2 combines all the features needed of a radio broadcast mixer in a stylish, flush-mounting chassis : a wide range of input and output channels, PFL/cue, fader-start operation of equipment, automatic monitor muting on mic-live, light switching remote outputs, optional EQ on input modules, gram amp input options and 2 main audio buses, allowing you to broadcast on the PRG bus while recording on the AUD bus, with bus output selection on each module.
For images of the S2 click here >
For Trafficmaster studio image click here >
Contact sales@sonifex.co.uk for further information.
US enquiries :
contact Fraser Jones of Independent Audio, tel : +207 773 2424 fax : +207 773 2422
email : info@independentaudio.com website : https://www.independentaudio.com
UK and other export enquiries :
contact Eamonn Heffernan of Sonifex Ltd, tel : +44 1933 650 700 fax : +44 1933 650 726
email : sales@sonifex.co.uk