Press Release
Cheshire FM Chooses 'User Friendly' Sonifex S2 On-Air Mixer

9th June 2008
Words: 303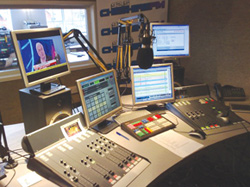 Cheshire FM Radio is a new community radio station on 92.5 FM that launched on 30th March 2007 after having had successful trials for a number of years. Cheshire FM Radio is based in Mid Cheshire - a semi-rural area of 113,000 people in villages and hamlets around the towns of Northwich, Winsford and the market town of Middlewich in the UK.
The studios were designed from scratch by David Duffy (Chief Executive), Dave Brierley-Jones (Programme Manager) and Phil Houtlby (Operations Director) with Phil controlling the installation of the studios and the technical equipment.
When building the new studios, it was decided to install Sonifex S2 mixers in each of the two studios. A Sonifex S2-10 split mixer was installed, providing 2 mic/line inputs, 7 stereo line inputs and a telco input. Because the S2 is completely modular, the exact configuration was chosen to ensure optimum compatibility with ancilliary equipment , such as the automation system.
Dave Brierley-Jones gave the following reasons for their choice of mixers: "A key decision was that the Sonifex mixers are easy to use. This is essential because many of our presenters are beginners and they need to be able to concentrate on what they're saying, not how the equipment works. The S2 allows them to do this . Also, the S2 mixers are robust and they're modular so it'll be easy to replace parts should we need to."
The Sonifex S2 is a small scale hybrid mixer using an analogue buss but with both digital and analogue inputs, together with simultaneous analogue and digital outputs. It has been installed in over 400 radio stations worldwide, varying from schools, colleges and hospital radio stations to community and commercial stations.
For further information on Cheshire FM, check the following web address: http://www.cheshirefm.co.uk
For images of the S2 click here >
For Cheshire FM studio image 01 click here >
For Cheshire FM studio image 02 click here >
Contact sales@sonifex.co.uk for further information.
US enquiries :
contact Fraser Jones of Independent Audio, tel : +207 773 2424 fax : +207 773 2422
email : info@independentaudio.com website : https://www.independentaudio.com
UK and other export enquiries :
contact Eamonn Heffernan of Sonifex Ltd, tel : +44 1933 650 700 fax : +44 1933 650 726
email : sales@sonifex.co.uk