Press Release
Sonifex Celebrating 10th NAB exhibition at NAB 2007

22nd January 2007
Words: 501

Sonifex are celebrating their 10th year of exhibiting at NAB in Las Vegas. Managing Director Marcus Brooke commented: "Originally, we came to the NAB exhibition mainly to talk to our distributors across the world – it was a convenient place to meet up with the majority of them. Now, our US sales are increasing year on year, so we're talking to more and more US customers at the show, as well as distributors. We specialize in audio equipment for radio broadcasters, so it's clear that the NAB exhibition is the best show to demonstrate the depth of our product range for radio broadcasters across the USA. At this year's exhibition we'll be showing a number of new products in our Redbox range of audio interfaces."
Sonifex are on NAB booth number N4928 and are showing the full range of their audio equipment, including the S2 hybrid analogue/digital radio broadcast mixer and Sonifex's Redbox range of audio interfaces. There are 2 new additions to the Redbox range: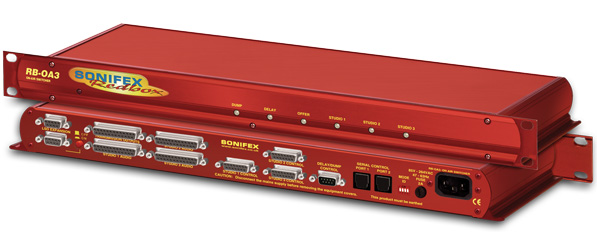 The RB-OA3 is a 1U rack-mount, unity gain on-air switcher, capable of switching four stereo pairs between three studios. Each studio can control the transmission path, two peripheral paths for equipment such as a codec or hybrid and a "Last studio to offer" bus, allowing for seamless and continuous broadcast from any multi-studio radio network. A "sustain" mode also allows for a sustaining system, such as a PC automation system, to control the broadcast. More switchers can be connected together to switch up to 6 stereo channels between 5 studios. The switching is achieved using relays, except the "last studio to offer" which is switched by an analogue switch and the transmission path is switched using latching relays. This means that if there is a power failure to the unit, the transmission path will remain selected.

The RB-SSML1 is a 1U rack-mount contribution unit comprising a source selector for compressing or limiting an incoming microphone or line signal, along with selectable level metering and headphone monitor outputs. It provides the facilities often needed in news-booths, voice-over booths and at remote studios for recording into a PC.
These new products will be displayed with the full range of Redbox digital audio converters, word-clock, audio and headphone distribution amplifiers, microphone amplifiers, matching amplifiers, mixers, source select units, silence detect unit, limiters, a power controller and stereo to mono converters.

Also showing is the DHY-03 digital telephone hybrid. Probably the best performing telephone hybrid in the world with a 75dB null, universal line compatibility, input/output gain adjustment & metering, conferencing, RS232 control, local/remote line hold switching and auto-answer. A new eurocard sized version of this product, the DHY-03EC, is also available.
Finally, the new V2.0 of the D:Scribe transcription software will be demonstrated which offers transcription from DVD VOB disks and CD ripping to wma format. This software operates with the Net-Log audio logger which records 4 channels of audio to an internal hard-disk for playback across a network.
For images click here >
Contact sales@sonifex.co.uk for further information.
US enquiries :
contact Fraser Jones of Independent Audio, tel : +207 773 2424 fax : +207 773 2422
email : info@independentaudio.com website : https://www.independentaudio.com
UK and other export enquiries :
contact Eamonn Heffernan of Sonifex Ltd, tel : +44 1933 650 700 fax : +44 1933 650 726
email : sales@sonifex.co.uk